Heidi Gubbins Interior Design
An Atelier Approach to Design in Marbella
With an innate eye for detail and contrasting elements, Heidi's approach is to provide her clients with a holistic and relentless service, paying high attention to detail, from concept, to design, to the installation of each project .
She is backed up by a fantastic team of professionals behind her, as each member is more creative, skilled, and efficient th an the last. United by their calling, this has led to not only a close -knit bond between colleagues, but they're also like a well – oiled machine working in perfect harmony to achieve the desired result .
Heidi Gubbins' portfolio includes projects in Spain, the United Kingdom, and Miami. Now a force to be reckoned with on the Marbella scene, she is a versatile designer and has an innate eye for style, giving each space a unique touch .
Heidi Gubbins Interior Design
Services Provided by Heidi Gubbins Interior Design
Discover Unique and Customized Furniture Packages
Based in Costa del Sol, Martin and Laura at Your Home Styling have earned a stellar reputation for how much they commit to each client's home styling goals. Its multilingual team will be able to decipher exactly what your style, taste, and most importantly, budget needs are.
How Do the Packages Work?
If you've just bought your home on Costa del Sol, allow Your Home Styling to do the decorating for you. You can visit the showroom or give the team a call to contact one of its interior stylists. You will work with its expert team towards achieving your ideal interior, styled to your needs, and wishes. Get all your furniture delivered to its warehouse, and the team will ensure that everything is delivered and installed at once, ready to move in.
You can Visit the showroom
Monday – Friday 10:00 – 18:30
Saturday on appointment only
Address: Carretera de Mijas, KM 4.5, Centro Nordico,
Local 15, Mijas, 29650 Spain
Email: info@yourhomestyling.com
10 Free Tips to Transform Your House into a Super Cozy Home, With Help From FJ Styling
There's nothing quite like coming home to a warm and cozy space that feels like your own personal sanctuary. However, creating a cozy home can sometimes be a bit of a challenge, especially if you're not sure where to start. That's why we've put together this list of 10 free tips from FJ Styling that will help transform your house into a super cozy home.
Use flowers and plants: Adding greenery to your home is one of the simplest and most effective ways to create a cozy atmosphere. Plants and flowers add color and life to any space, and studies have shown that they can even reduce stress and improve air quality. Consider adding some low-maintenance plants like succulents or ferns to your home, or arrange fresh flowers in vases throughout your space.
Use personal photos in different settings: One of the easiest ways to personalize your home and make it feel cozy is by displaying personal photos. However, instead of just hanging them on the wall in frames, try getting creative with how you display them. You could create a gallery wall with photos of different sizes and shapes, or use photo ledges to showcase your favorite memories.
Go for one unique piece of furniture: While it's tempting to fill your home with trendy decor and furnishings, sometimes less is more. Instead, choose one unique piece of furniture that reflects your personal style and makes a statement. It could be a vintage armchair, a handmade coffee table, or a bold area rug.
Add color to the room: Color has a powerful impact on mood and can be used to create a cozy and inviting atmosphere. Consider adding pops of color to your space through accent pillows, throw blankets or even a statement piece of artwork. If you're not sure where to start, try choosing a color scheme that makes you feel happy and inspired.
Light is very important: Lighting is key when it comes to creating a cozy ambiance in your home. Instead of relying solely on overhead lighting, consider adding lamps or string lights to create a warm and inviting glow. Try using different types of lighting to create a layered effect, such as task lighting for reading or working and ambient lighting for relaxation.
Use candles of different shapes and sizes: Candles are a classic way to create a cozy and relaxing atmosphere in your home. Try using candles of different shapes and sizes to create a layered effect that adds depth and dimension to your space. You could also experiment with different scents, such as lavender for relaxation or cinnamon for a warm and comforting vibe.
Use pleasant scents: In addition to candles, there are other ways to incorporate pleasant scents into your home. Consider using a diffuser with essential oils or hanging sachets of dried lavender or eucalyptus throughout your space. These subtle scents can help create a relaxing and rejuvenating atmosphere.
Create cozy and comfortable spots in a large space: If you have a large living room or bedroom, it can be challenging to create a cozy atmosphere. To make the most of your space, consider dividing it up into smaller, more intimate seating areas. You could use area rugs or screens to create a sense of separation, or add floor cushions and throw pillows for extra comfort.
Make optimal use of your spaces: Don't let any space in your home go to waste. Utilize niches and spaces under an open staircase for storage or display. Consider adding shelves or built-in cabinets to maximize storage space, or create a cozy reading nook in a corner of your bedroom.
Make a connection with your outside: Finally, consider bringing the outdoors in by creating a connection between your indoor and outdoor spaces. This could mean adding potted plants to your balcony or terrace, or using similar colors and materials in your indoor.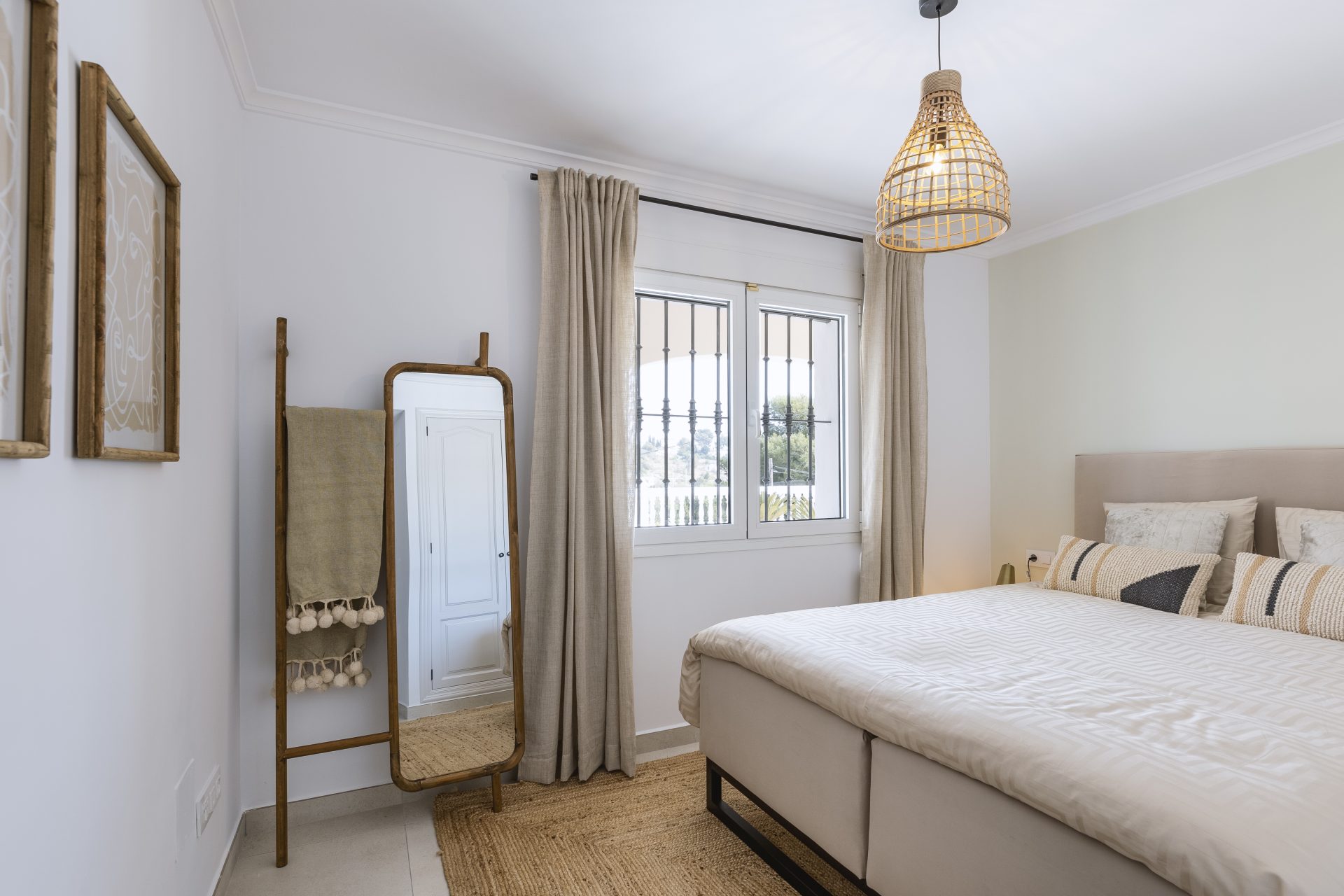 FJ Styling specializes in creating cozy and personalized interior design plans that transform living spaces into warm, inviting homes. Contact them today to learn more about their services. Meanwhile, use these 10 free tips to make your house a super cozy home, incorporating plants, personal photos, unique furniture, lighting, and scent options. Create your dream home today with FJ Styling's help.
DECK OUT YOUR HOME GYM WITH PREMIUM GEAR FROM HIGH END HOMES
Want to start building your own home gym? Find top-of-the-line home equipment by Pent Fitness at High End Homes in Marbella and you won't have any excuse to ditch a workout!
We all like to stay fit and lead a healthy lifestyle, and this is not only achieved by following a balanced diet, but also by following good habits and, above all, by staying active. To set up a gym at home, it is advisable to dedicate a specific space and adapt it to the needs of the exercises you want to carry out.
We may be emerging from the pandemic, but many of us are looking to remain cautious and stay at home when it comes to getting in a workout. For many, what started out of necessity has become a habit they have no intention of giving up.
While the advantages of a fitness centre are obvious, working out at home can go a long way towards making it easier to maintain a healthy routine. Investing in a home gym seems like a wise choice given the current circumstances.
Not only that, but the home equipment at High-End Homes in Marbella features a luxury home range for those who don't wish to have unsightly weights lying around.
PENT Fitness – Luxury Home Gym Equipment
The basis of any physical change is based on four main pillars: motivation, training, nutrition, and rest. Motivation is the key to a good workout; this will be the basis to encourage you to train at home.
And what better way to stay motivated than by having your own luxury home gym to work out in? PENT Fitness arguably has the most beautiful home gym equipment we've ever laid our eyes on. Offering lines of barbells, dumbbells, benches, medicine balls, kettlebells, boxing gear, and other accessories, it has a distinctively elegant, smooth finish to its equipment. Take a look for yourself:
Working in perfect harmony with modern machines and high-quality materials, PENT Fitness' design team is unmatched in terms of experience and craftsmanship. The company strives to give the look of the equipment an elegant and timeless feel, with a flawless curve, angle, and stainless steel finish. The equipment is made to please demanding customers, which is why the shape of the equipment is the result of months of intensive care and labour. The design incorporates oiled walnut to give a firm yet pleasant grip, which is also highly hygienic, and as a result, no harmful substances are passed onto the user as they sweat. PENT Fitness is aimed at those who wish to take their personal workout space to the next level. Whether it be for fitness enthusiasts, personal trainers wishing to upgrade their livelihood, or owners of luxury gyms and spas, PENT equipment effortlessly gives any gym space a glamorous, professional feel.
PENT Fitness equipment in High-End Homes, Marbella
Situated in Marbella, High-End Homes Based in Marbella, a luxury interior furniture store that provides chic and professional design services, as well as a personalised service. Featuring top of the line Scandinavian brands, the showroom is the brainchild of Norwegian designer Ann Sand.