May 8, 2023
Luxury Golf Estate Experience Endless Luxury and Serenity at Panorama Villa H
Panorama Villa H offers an unmatched experience for those looking for the ultimate retreat from the hustle and bustle of daily life with its opulent amenities, spectacular views, and close proximity to world-class golfing. Located within the prestigious 5-star Finca Cortesin Golf Resort on the alluring Costa del Sol, this villa will satisfy your needs, whether you're searching for a tranquil retreat, a family vacation, or a golfer's paradise. Come and enjoy the splendour of this remarkable estate, where luxury and peace coexist.
Architected by the renowned Studio Torras y Sierra, Villa H is perched on a south-facing, three-part terrace hill, encompassing an expansive 2200 square meters of land. With three bedrooms and three bathrooms, this family-friendly villa can comfortably accommodate up to six guests. Stepping onto the first terrace level, you'll be greeted by a spacious lounge area spanning 109 square meters, with 46 square meters of covered space for your utmost comfort. Here, you can relax and unwind while immersing yourself in the breathtaking vistas of the Mediterranean coastline. Adjacent to the sun terrace, an inviting 13-meter-long infinity pool beckons you to take a refreshing dip and revel in the awe-inspiring views.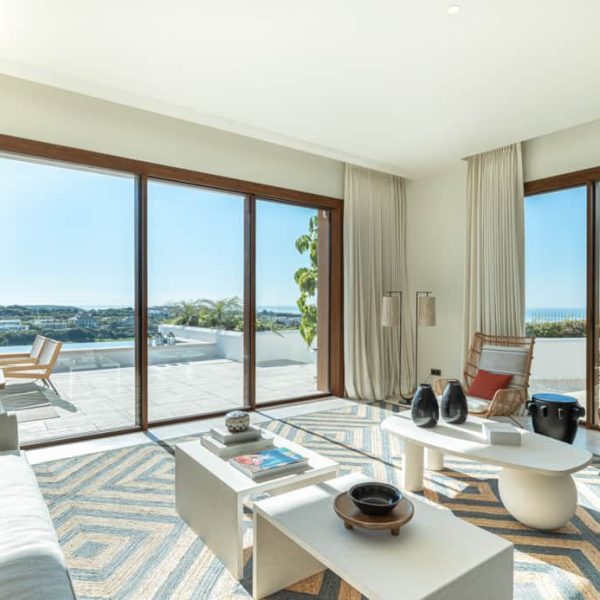 The second and third levels of Villa H are adorned with a lush kitchen garden, spanning an impressive 1820 square meters. Filled with fragrant fig, mango, lemon, lime, pomegranate, and banana trees, this tropical oasis provides a serene environment for morning yoga sessions, sunbathing, or simply immersing yourself in the beauty of nature. Children will find endless joy in exploring the garden and delight in a safe space to play and create lasting memories.
Inside Villa H, you'll discover tastefully decorated living spaces that exude elegance and comfort. The villa features two bedrooms with king-size beds, one bedroom with two single beds, and three modern bathrooms. The well-equipped kitchen allows you to indulge your culinary skills, and the dining area provides a perfect setting for enjoying meals with your loved ones. Entertainment options include a stereo system and a TV with cable channels for your pleasure. For added safety and peace of mind, the villa is equipped with a state-of-the-art security system, smoke detectors, and a first aid kit.
Villa H is a golfer's paradise with direct access to one of Europe's top golf courses and is tucked away within the famed Finca Cortesin Golf Course. This golfing paradise, which is renowned for its exceptional upkeep and stunning setting along the Mediterranean coast, offers immaculate fairways and beautiful ocean vistas that will captivate both seasoned golfers and amateurs. The majestic estate of Finca Cortesin will play host to the eagerly awaited Solheim Cup in 2023, which further adds to Panorama Villa H's attraction. This esteemed golf competition draws golf fans from all over the world, which further boosts the allure of the resort and its environs and establishes Villa H as a premier vacation spot for ardent golfers.
As an extraordinary opportunity, Panorama Villa H is currently available for sale at a price of 4.2 million euros. This presents a remarkable chance to own a prestigious property in this idyllic location, where luxury and tranquillity converge.
For more information about Panorama Villa H at Finca Cortesin Golf Resort, please contact Terry Moutter at +34 711 09 05 28 and at terry@ukspainlife.com.